TD Ameritrade set the bar high at the onset when other brokerages considered closing their doors due to SEC rulings on fixed broker fees. For TD Ameritrade, it's been a steady road to the top and for the last 40 years, they've built a brand that's a favoured household name. With its vast range of products and services, the brand pushes beyond boundaries with customer centricity at the heart of their value proposition. This approach has allowed them to capture a significant portion of the market, and the $1 trillion in assets affirms their position as a trusted brokerage. But TD Ameritrade is not just about trading, it also happens to offer its client base a comprehensive investment range that includes long term investments such as college planning and retirement options. For TD Ameritrade to be regarded as a full-fledged bank, it simply needs some transacting accounts to get off the blocks, but for now, the focus is purely to help their client base build wealth.
Visit Broker at: www.tdameritrade.com
Investitionen bergen das Risiko von Verlusten
Important Info At A Glance

Account Opening Deposit:
$0, however, minimum of $3,000 required to qualify for 60-day commission-free offering on ETFs, futures, and options
Maximum Leverage:
50:1 major currencies, 20:1 exotic currencies
Spread EUR/USD:
Comm. 0.30 pips plus 2.00 pips round-turn, Non-comm. 0.90 pips
Trade Goods:
Stocks, options, ETFs, mutual funds, futures, forex, margin trading, and more
Cryptocurrencies:
Coming soon, currently only Bitcoin futures offered to specific traders
Demo Account:
Free
Platforms:
Web, mobile, and thinkorswim
To The Website:
https://www.tdameritrade.com
Visit Broker at: www.tdameritrade.com
Investitionen bergen das Risiko von Verlusten
1. We Test TD Ameritrade

TD Ameritrade is an all-rounder when it comes to providing the market with financial products. Their website usability is simple and straightforward, with tabs that are easy to navigate. Important information such as pricing and funding requirements are easy to notice, and the various products are listed in their separate tabs.
For a beginner who has never traded before, this is the ideal opportunity to get a feel for the world of trading, as TD Ameritrade caters to the newbie who still needs to find their feet and the seasoned trader who wishes to perfect their strategy. The various platforms allow users to have a choice which route to follow. For traders, it's the simplicity of the trade that makes this platform so easy to deal with.
The account opening process takes a few minutes and once funded, trading starts immediately. The option to access a demo account is there but head straight into what is lauded as one of the most well-accomplished trading platforms available: thinkorswim. This platform is for the serious trader and off the bat, the experience is seamless. As a desktop application with stellar syncing capabilities, it rivals some of the market's finest including MT4 and MT5.
Traders can customize their settings to ensure that they have the right screens, feeds, notices, and more. Funding the account is simple and fast, and will depend on the trader's needs. Withdrawals are also simple and the speed of the transaction will largely depend on the chosen account type for the deposit.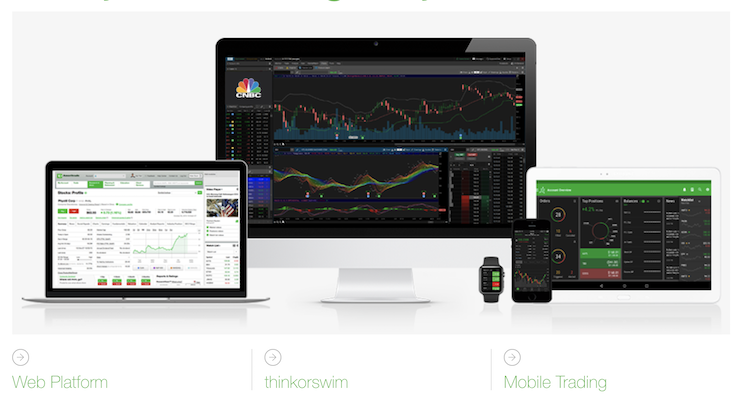 2. Technical And Financial Security Measures

Although TD Ameritrade doesn't include FDIC cover on their deposits, customers still seem to feel at ease with the transactions. This is largely due to the $1trillion in assets on their books, as well as their continuous registration with the SEC. They're also registered with FINRA, which allows consumers to check up on their status at any given time. The FINRA dashboard also provides information about pending litigation against TD Ameritrade, such as arbitration, regulatory, and civil events.
From a technical perspective, customers are guided towards resources that will help them boost the security of their devices before accessing the site. These measures are important to ensure that trading remains in a safe environment and that unauthorized people don't gain access or control of the profile.
In the event that a customer experiences loss due to their electronic profile being compromised and TD Ameritrade is at fault, the brokerage will reimburse the customer due to its Asset Protection Guarantee policy. For customers, this is a welcoming relief as online threats are ever on the increase and becoming more sophisticated by the day. The thinkorswim platform also syncs to the website regularly in order to stay on top of updates, which may include security updates too.
The brokerage is also determined in terms of teaching their customers what to look out for when suspicious calls and messages come through. Emails are well-known for the phishing capabilities and customers are made aware of these threats on a regular basis.
Visit Broker at: www.tdameritrade.com
Investitionen bergen das Risiko von Verlusten
3. TD Ameritrade Demo Account

Perhaps one of the most exciting things for newbie traders who sign up with TD Ameritrade is the fact that they have access to the free demo accounts. The account is loaded with demo funds of $100,000 and trading takes place in an accurate simulation. Traders can learn to trade for as long as they need before crossing over to real trading.
The benefits of using a trading demo account for a little while before starting the actual trading process is that all those theories from the textbooks can finally be put to the test without having to experience the failures as severely as with real money. This process of learning on the demo account is one that traders carry with them for many years, as time after time traders still go back to the demo account to test new strategies.
The thinkorswim demo account is through paperMoney, and users have free access to it. Those who are already on thinkorswim already have access to the demo account, they simply need to download the relevant information.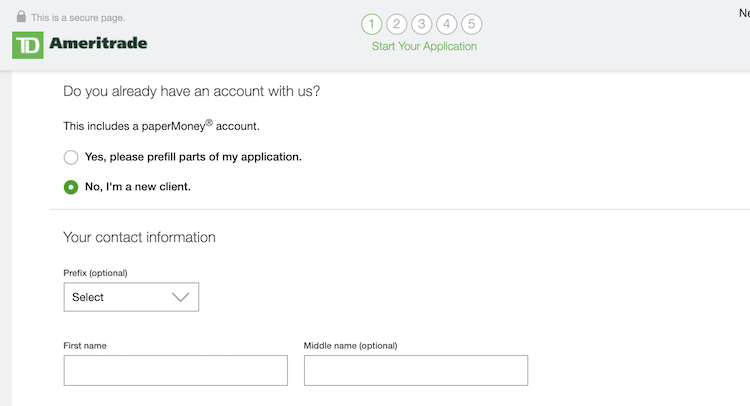 4. Account Opening Process

Opening an account with TD Ameritrade is fairly simple and customers can choose to visit one of their 300+ branches or simply apply for the account online. They will need to have their identification information ready, such as their Social Security Number (SSN) or Individual Taxpayer Identification Number (ITIN). For those who aren't U.S. citizens or residents, their passport number, VISA, or foreign tax ID is required. It's also important to have the employer's information on hand.
The account opening process is broken down into 5 simple steps designed to ensure that the application portion doesn't take too long.
Step 1: This screen requires all the personal information that will allow TD Ameritrade to keep a proper record of their client base, which is a regulatory requirement. The first screen also happens to be the one where users complete their level of experience in terms of investing, and also the type of account they would want. This screen is integral in terms of making the right decisions, which means the answers should be 100% accurate.
Step 2: For users, this screen is where they need to disclose more information in terms of their chosen products, in order for the system to gauge which products to recommend.
Step 3: In this step, users have the option to change around their answers a little and make the necessary switches before the accounts are opened. It's also on this screen where errors are corrected.
Step 4: The regulatory requirements are taken care of here and customers will read through the terms and conditions that pertain to their product selections, and acknowledge that they understand the legal implications of accepting the risk for their products.
Step 5: At this step, users are merely required to confirm their login details and before long, users will start trading. Those who sign up for the demo account can start practising their strategies straightaway, whereas those who go straight into the funded accounts will need to wait for their deposit to reflect before starting their trades.
Visit Broker at: www.tdameritrade.com
Investitionen bergen das Risiko von Verlusten
5. Account Funding Methods

There are a number of ways to fund the accounts and the different options will have their own pros and cons.
Check: While this option may be a good choice for those who do mobile banking, it also happens to be a rather slow option as it takes anywhere between 1 to 3 days to clear. On the plus side, however, is that there is no limit to the size of the deposit.
Electronic Bank Deposit (ACH): This option has the potential to be the fastest with a 30 minute turnaround time, but there is the caveat of potentially having to wait up to 3 business days. While this is the most popular option, it comes with a deposit restriction of $50 to $250,000.
Wire Transfer: Simple and easy to arrange, wire transfers are popular among those who want a fast deposit and no restrictions on the deposit amount. The deposits generally take around a day to clear, and these transfers are generally arranged at the bank.
External Securities Transfer: This option allows customers to transfer their ETFs, options, stocks, and other assets online. While a much more convenient way then withdrawing the funds and re-depositing them, this option can take a bit longer and customers can expect a 1-week turnaround time.
Physical Stock Certificates: Customers who have their physical stock certificates, can simply mail them in. Once received by TD Ameritrade, they usually take around a day to be loaded onto the system.

6. The Various Trading Platforms

Traders are spoiled for choice when it comes to choosing a trading platform, as they're not restricted to the one or the other, but can have a healthy balance of products across the various platforms.
Web Based Platform: Fundamental investors who need access to a trading platform that will provide them with innovative products, will find the web platform well-suited. Intuitive features play a big role in building up a wealth portfolio, as all these features work together to bring traders up to date and accurate information in order to perfect their investments. On the web platform, investors have access to products such as stocks, ETFs, mutual funds, fixed income such as bonds and CDs, and options. Customers can expect to have access to features such as alerts, customizable workspace, screeners, statements, tax documents, and more. Some of the advanced features include conditional orders and the paperMoney Virtual Trading platform.
thinkorswim: Considered the most advanced platform offered by TD Ameritrade, it personifies the trading principles of advanced traders. With this platform, traders have access to stocks, ETFs, complex options with 3 or 4 legs, futures, and forex. With this platform, customers can enjoy alerts, a customizable workspace, screeners, and chat support. Advanced features grant users access to conditional orders. Level II quotes on equities and options, TD Ameritrade Network and CNBC streaming, visual position, Strategy Roller, paperMoney Virtual Trading, and more. This platform is a desktop app which traders download. Syncing happens automatically when users are online.
TD Ameritrade Mobile: This platform can be considered the extension of the Web Platform and users have access to it to check their investments on the go. With this app, there are certain restrictions in terms of functionality, however, the app is useful in terms of account management. Users can link the app to their phone, tabler, or Apple Watch. Some of the functions to look forward to include the alerts and customizable workspace. Users can also look forward to Apple Business Chat.
TD Ameritrade Mobile Trader: It's hard to believe that this is a mobile app when seeing the full range of options available on it. Users have access to it via their phone, tablet, or Apple Watch and trades are effortless and secure. With this app, users have a full range of services such as those on the thinkorswim platform, however, this app also includes Apple Business Chat.
Visit Broker at: www.tdameritrade.com
Investitionen bergen das Risiko von Verlusten
7. Service Standards

There are a number of things that simply stand out about TD Ameritrade, and service happens to be one of them. When you come across a review of the brokerage, it's unlikely to find them anywhere else but at the top. This, despite the market perception that they're expensive. They manage to pull this off and still keep their high fees by providing their customers with a service offering that is unrivalled in the market.
Part of addressing their client needs is by providing a streamlined process that will require little intervention from staff, therefore, allowing customers to have a certain measure of autonomy when it comes to their trading and investing. When they do need assistance, dedicated service professionals and brokers are on hand to assist.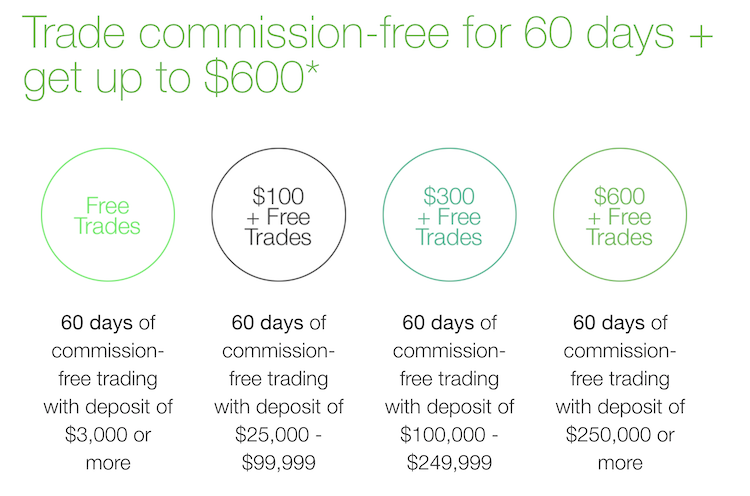 8. Pricing

TD Ameritrade is considered one of the priciest brokerages, however, still enjoys a fair portion of the market. They pride themselves in the fact that their pricing is entirely transparent, and that users have access to it at a moment's notice. This ensures that there are no surprises on the statements when the fees are allocated.
While there are no account minimums, no platform fees, and no trade minimums, the $6.95 charge for some trades may seem excessive. A breakdown of the major fees include:
Stocks: These are charged at $6.95 per online trade and for those who wish to make use of a broker, the fee is $44.99. There is also the option of using an Interactive Voice Response (IVR) Phone System at a cost of $34.99.
ETFs: While there are commission-free options on the platform, there are also those that attract a fee of $6.95 for an online transaction. Those who wish to make use of the IVR Phone System will incur a fee of $34.99 and broker-assisted deals are charged at $44.99. There are over 300 commission-free trades on the platform.
Mutual Funds: Some mutual funds carry a no-transaction-fee (NTF) status, which can save traders a substantial amount of money. They do, however, need to keep an eye out for the No-Load fee of $49.99. Customers don't pay any commission on loads, however. The NTF funds are from leading fund families.
Options: According to Barron's, TD Ameritrade is rated Best for Options Traders and despite the fee breakdown, customers come back for more. Online trades cost $6.95 plus $0.75 per contract. There is also an options exercises and assignments fee of $19.99. The IVR Phone System fee is at $34.99 plus $0.75 per contract and the broker-assisted fee at $44.99 and $0.75 per contract.
Futures: These enjoy a simple fee structure of $2.25 per contract, plus the exchange and regulatory fees.
Forex: There are both non-commission and commission-based forex transactions. Those that attract commission, are based on a fixed rate. Commission currency pairs trade in 1,000 increments and the commission is $0.10 per 1,000 units, however, the minimum charge is a dollar.
Visit Broker at: www.tdameritrade.com
Investitionen bergen das Risiko von Verlusten
9. Conclusion

At first, when you head out to the TD Ameritrade website, that $6.95 cost hits you right between the eyes. It soon becomes apparent, however, that there is more to their service offering than high prices, as they prove that paying for a decent service can go a long way.
They're ranked as the best brokerage on more than one review site and when they're not first, they definitely rank high enough to be considered one of the top choices today. The vast range of products and platforms are a testament to their dedication in terms of turning things around. While their fees might be on the steep side, customers are in good hands.